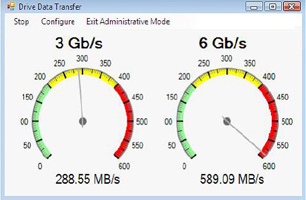 Serial ATA (SATA) 6Gb/second interfejs za smeštaj će isporučiti najbolje performanse – unaprediti brzinu do 6Gigabits u sekundi – za sve PC aplikacije, uz održanje kompatibilnosti sa SATA 3Gb/second i SATA 1.5Gb/second interfejsom, i koristi iste kablove i konektore kao prethodne SATA generacije za jednostavnu integraciju.
Treća generacija mainstream storage interfaejsa za desktop i notebook kompjutere takođe unapređuje energetsku efikasnost i Native Command Queuing, karakteristika SATA diskova, kako bi se uvećale sveukupne performanse sistema i brzina transfera podataka za mainstream PC aplikacije, ali naročito za zahtevne aplikacije poput onih za modeliranje, inženjerski dizajn i dr.
Rast upotrebe digitalnih informacija širom sveta kako u poslovnom tako i u potrošačkom svetu povećava broj gaming, digital video i audio, streaming video, grafičkih aplikacija koje zahtevaju sve veću propusnu moć, čime se povećava tražnja za PC interfejsom koji može da podrži sve veći digitalni sadržaj," rekao je Joan Motsinger, Seagate vice president of Personal Systems Marketing and Strategy.
" SATA 6Gb/second interfejs za smeštaj će zadovoljiti tražnju za higher-bandwidth PC računarima. Seagate ima dugu istoriju u prednjačenju u novim tehnologijama na tržištu poput Serial ATA, perpendikularnog snimanja i self-encrypting mogućnostima, a izuzetna je čast što je u kooperaciji sa  AMD-om obezbedio prvu javnu demonstraciju SATA 6Gb/second smeštaja.