Inženjersko regionalno takmičenje – EBEC Balkan, u organizaciji BEST-a (Board of European Students of Technology) u Sofiji 26.-30. april 2013.
Međunarodni  EBEC Balkan tim u saradnji sa lokalnom BEST grupom Sofija  organizuje inženjersko takmičenje studenata Evrope na kome će učestvovati studenti  iz: Srbije, Makedonije, Bosne i Hercegovine, Crne Gore, Bugarske. Takmičari će se na regionalnom takmičenju EBEC Balkan kvalifikovati za finalno takmičenje na Evropskom nivou EBEC Final koje se održava 1.-8. avgusta u Varšavi. Svi učesnici regionalnog takmičenja EBEC Balkan su pobednici lokalnih inžinjerskih takmičenja EBEC Local u: Beogradu i Nišu ( Srbija), Skoplju ( Makedonija), Mostaru     (Bosna i Hercegovina) , Podgorici ( Crna Gora) i Sofiji (Bugarska).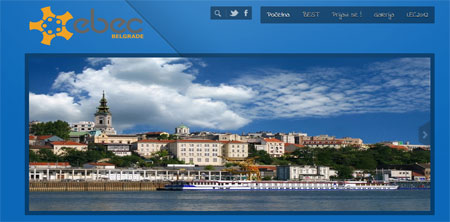 U beogradskim timovima su studenti fakulteta Organizacionih nauka, Mašinskog, Elektrotehničkog, Fizičkog Tehnološko-Metalurškog fakulteta, a u timovima iz Niša studenti Elektronskog i Mašinskog fakulteta.
Samo takmičenje je najznačajniji deo događaja. Timovi od po četiri studenta takmičiće se u dve kategorije – Case Study i Tim Dizajn. Case Study zahteva od studenata da se stave u ulogu lidera kompanije rešavajući realne probleme kroz teorijski pristup, druga kategorija Tim Dizajn im daje mogućnost da pokažu spretnost – moraće da naprave funkionalni model sprave koja obavlja odgovarajuću operaciju kao odgovor na zadatu temu. Obe kategorije testiraju inženjerski način razmišljanja i kreativnost, takođe timovi će morati da pokažu timski rad i komunikaciju da bi uspeli da savladaju zadatke i ostvare uspeh.
Događaj je podržan od strane: Energoprojekt, Hemofarm fondacija, Asseco i Tehničkog Univerziteta u Sofiji.
European BEST Engineering Competition – Balkan regional round, organised by BEST (Board of European Students of Technology) in Sofia between 26th and 30th April 2013.
Local BEST Group Sofia with the support of the international EBEC Balkan team is going to organise an entirely outrageous event which is going to host around 50 students of technology from Serbia, FYR Macedonia, Bosna and Herzegovina, Montenegro, Serbia and Bulgaria. They will come together and compete for the right to represent their region at the big european final that will take place from 1st to 8th August 2013 in Warsaw. All EBEC Balkan participants are the winning teams from the local rounds in Belgrade, Nis (Serbia), Skopje (FYR Macedonia), Mostar (Bosna and Herzegovina), Podgorica (Montenegro) and Sofia (Bulgaria). At the final in Warsaw, all winners from all regional rounds will come together and decide who the BEST engineers in Europe for 2013 are.
Apart from the Opening Ceremony, the presentations of the companies will take an extensive place.
The competition itself is the biggest part of the event – the teams of four students will compete in two categories through the first two days – Case Study and Team Design. While the first requires students to think as leaders of the company and resolve real life issues in theory, the second will give them the opportunity to show how handy they are – they will have to build a real working model of a device. Both tasks will test their engineering way of thinking and creativity to the fullest extend. Apart from that, they will also need outstanding teamwork and presentation skills in order to get to the price.
The event is supported by: Energoprojekt, Hemofarm fondation, Asseco and Technical University of Sofia.