EA Sports šokirao je sve(t) najavivši da će specijalni gost u novoj UFC igri za PS4 i Xbox One biti najveća legenda borilačkih sportova, Bruce Lee.
"Osećam da je ovo najsmešnije pitanje", kaže kreativni direktor igre Brian Hayes. "Zašto ste stavili Bruce Leeja u UFC igru? Pa za to što je to Bruce Lee. Njegova filozofija uspostavila je temelje za MMA. Ne razumem kako neko može i da pomisli da sve ovo nema smisla. Znam da se sa nama slažu brojni fanovi i da će jedva dočekati da se okušaju kao ova legenda u oktagonu. Ja sam jedan od njih."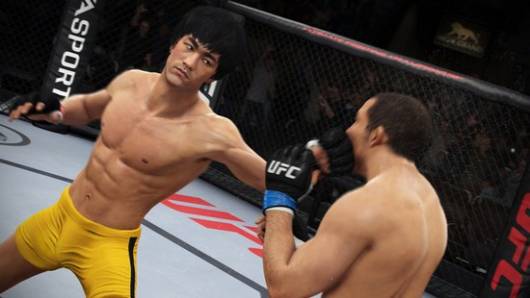 EA Sports posao je obavio temeljno pa je u saradnji sa Bruce Lee Enterprisesom dobio sav potreban materijal da bi on u igri izgledao i ponašao se kako treba. "Nije da ovaj lik liči na Bruce Leeja, on jeste Bruce Lee. Način na koji se ponaša, borilački stav, njegova pojava, brzina i udarci su tu, kao i glasovi koje ispušta." EA Sport UFC izlazi 17. juna, a mi jedva čekamo da ga se dočepamo!